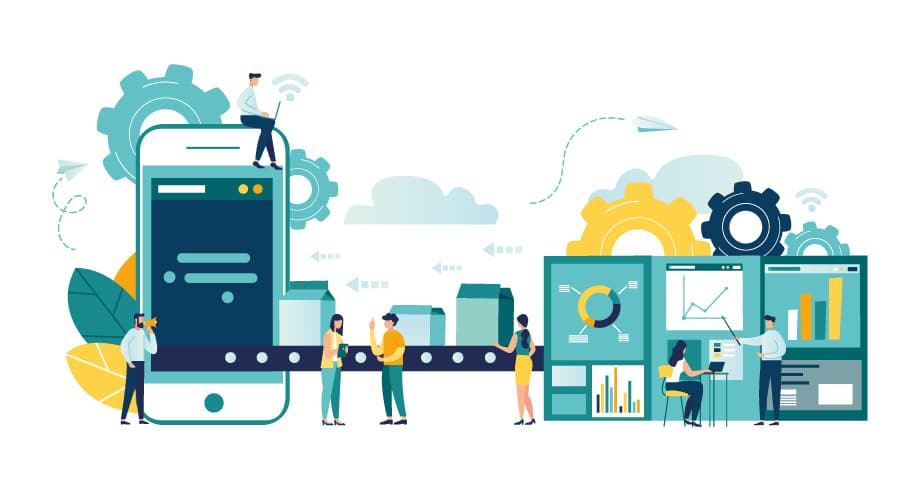 Presently, the Field Sales Mobile App finds its place in various sectors which include Retail, Healthcare, BSFI, Logistics, and others. The organization has to put more effort to effectively manage its inventory, invoice, payments, customer relations, etc. Sales Force Automation helps in facilitating better work culture, improves sales targets, reduces redundancy of tasks, and achieves better sales targets. If you are a small company or a global enterprise, this app can increase your productivity as a sales agent, which in turn improves the ROI for your company.
What is a Sales Force Automation app?
Field Force Manager is a type of software that is designed to monitor, automate, and streamline various key business areas like sales activity, management, payroll management, attendance management, sales pipeline management, sales team performance evaluation, account management, and expense management. This software can be customized based on your business needs, and it also provides actionable insights that will help you in tracking, managing, and improving your sales team.
Benefits
Let us review some of the benefits of the Sales Force Automation App –
This app helps your sales workforce to perform effectively on the field by using call and chat options for sharing information. If there is a need to get any important information they can call and chat with their sales manager immediately.
You can easily track the attendance and manage the resources digitally with the inbuilt attendance tracking system. You can make use of the automatic scheduling of jobs to the right employee to avoid wastage of time.
Using this app, you can track the expenses and claims of your employees which makes the claim process easier for you and your accounts team.
This app helps you to track the location and routing of your technicians, which will help to avoid delays and accidental breakdowns in real-time; where unnecessary delays are avoided.
Through this app, it'll be easier for you to deal with invoicing and payment follow-ups, and also you can set up reminders regarding your next payment follow up task.
10 Reasons why you should Invest in Sales Force Automation App
Let us discuss the top 10 reasons why you should invest in the Sales Force Automation app –
The sales force automation app helps the sales managers to make better decisions by making use of the different reports that helps them to analyze the sales trends and performance of their field sales employees.
You should know that field force automation software will not replace the sales department; rather it is considered important to effectively manage the sales teams and help them to implement the right strategies to perform better.
Using this app, the management can track expenses, pending payment follow-ups, and boost sales productivity.
Sales managers can assign monthly sales targets to their sales team through this app and as a result, they can view their team's progress.
Some of the Important reports of your employees such as attendance, location tracking, working hours, distance traveled, payments, and collections can be viewed in the app.
The management team can view the product wise sales reports and improve sales productivity. This app helps in measuring the performance of the salesman and also provides all the details of the overall activity of a particular salesperson.
With a field service management App, it is very helpful to manage and approve the expenses of your field sales employees, you can assign sales targets within the app for your team, and you can check the sales team's progress.
This app provides notifications of the payments; you can also set reminders for collecting the payments and tracking their progress. Also, your sales team can take pictures from the field and upload them to the app so that the sales manager can have a look at them.
One of the main objectives of a sales force automation app is to assist the field sales force team to complete their sales target and help them to assess their performance to complete the targets.
The sales process can be restructured effectively, which makes the sales process more efficient. If your team members forget to send a report, using the inbuilt features offered by the app, this can be rectified.
Final Words
The benefits of using Sales force automation are numerous. It provides several features to help the sales manager and the management to track, monitor, and also to improve the sales team's performance. To tackle competition, salespeople should be eager to provide solutions to customer needs which helps them to retain the customer. Recent research shows that Field Service Software has been adopted by several companies across India; their ROI has increased 25% on an average, after using this app. Since the economy is moving towards digitization, adopting sales force management software is the best move.