Field Sales Automation
Improve your sales process with our comprehensive Field Sales Automation App . Streamline workflow, enhance productivity & improve customer satisfaction.
Increased Productivity
Real-Time Data
Improved Customer Experience
Better Sales Forecasting
Save Cost
Why Use Our Field Sales App
Our field sales product is designed to provide sales reps with the tools they need to streamline the sales process, enhance productivity, and improve customer satisfaction. By using our product, your sales reps can access customer data, order histories, and product information from their mobile devices, allowing them to work more efficiently and effectively while on the go
At our service, we believe in providing exceptional service to our clients. Our field sales automation product is easy to implement and use, and our team of experts is always available to answer any questions or concerns you may have. Contact us today to learn more about our field sales automation solution and how it can benefit your business.
Active Location Monitoring
Happisales utilizes cutting-edge technologies, such as GPS (Global Positioning System) and cellular networks, to accurately track the real-time location of field reps . The system offers a user-friendly interface that allows for intuitive tracking and monitoring of assets on a digital map in real-time. With Happisales, businesses can actively monitor and manage their operations with precision and efficiency.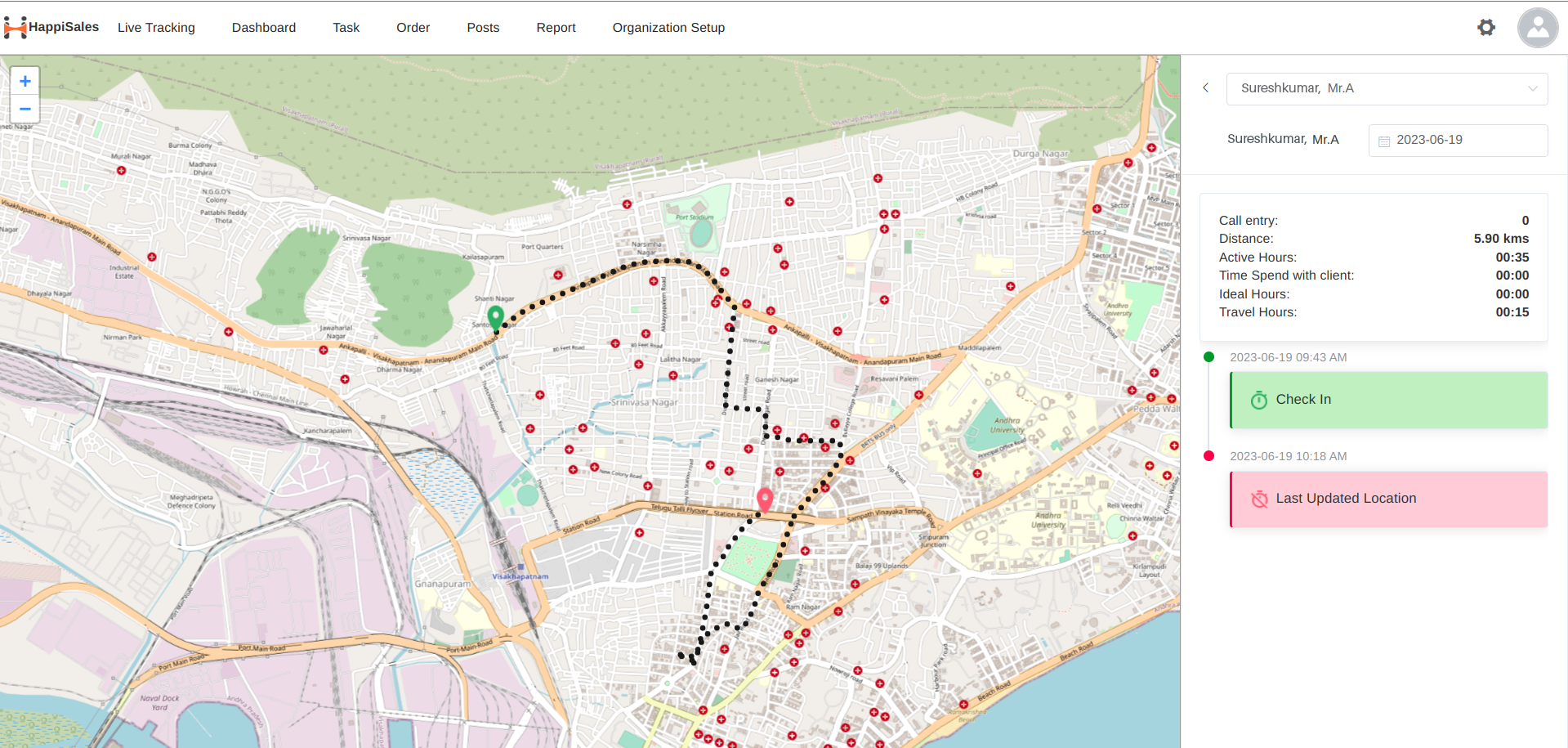 Monitor The Status of Field Force
Leverage the capabilities of our advanced platform to seamlessly monitor the status of your field sales team. Gain valuable insights into their whereabouts, login/logout timings, call entries, and battery percentage, empowering you to optimize their performance and maximize productivity.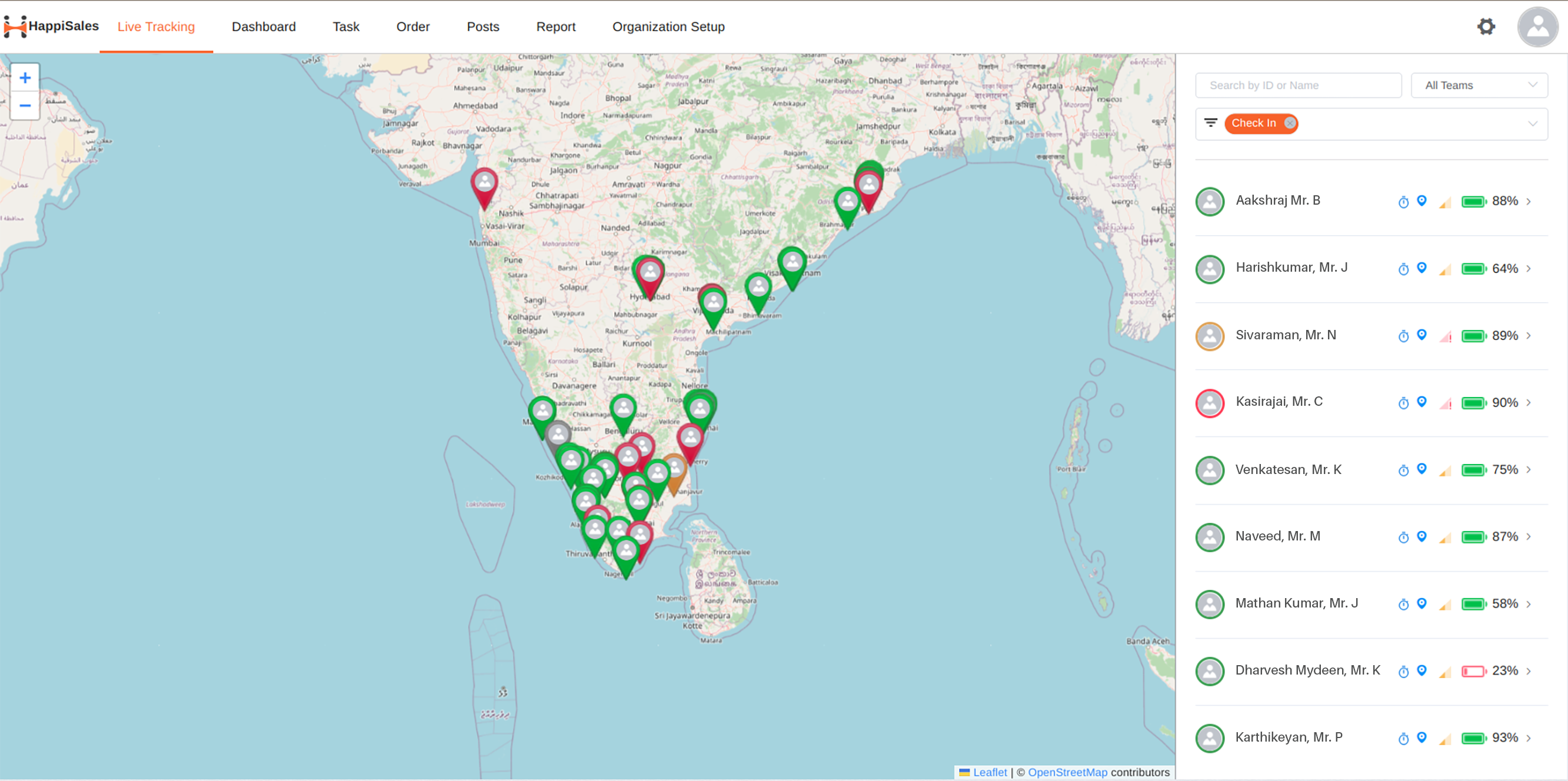 Witness Ultimate Sales Dashboard
With Happisales, your sales team gains access to a wealth of valuable insights that fuel success. Discover the latest sales trends, understand customer behavior, and track performance metrics such as visits, calls, and targets achieved. Empowered by these actionable insights, your team can make informed decisions, refine sales strategies, and maximize their productivity.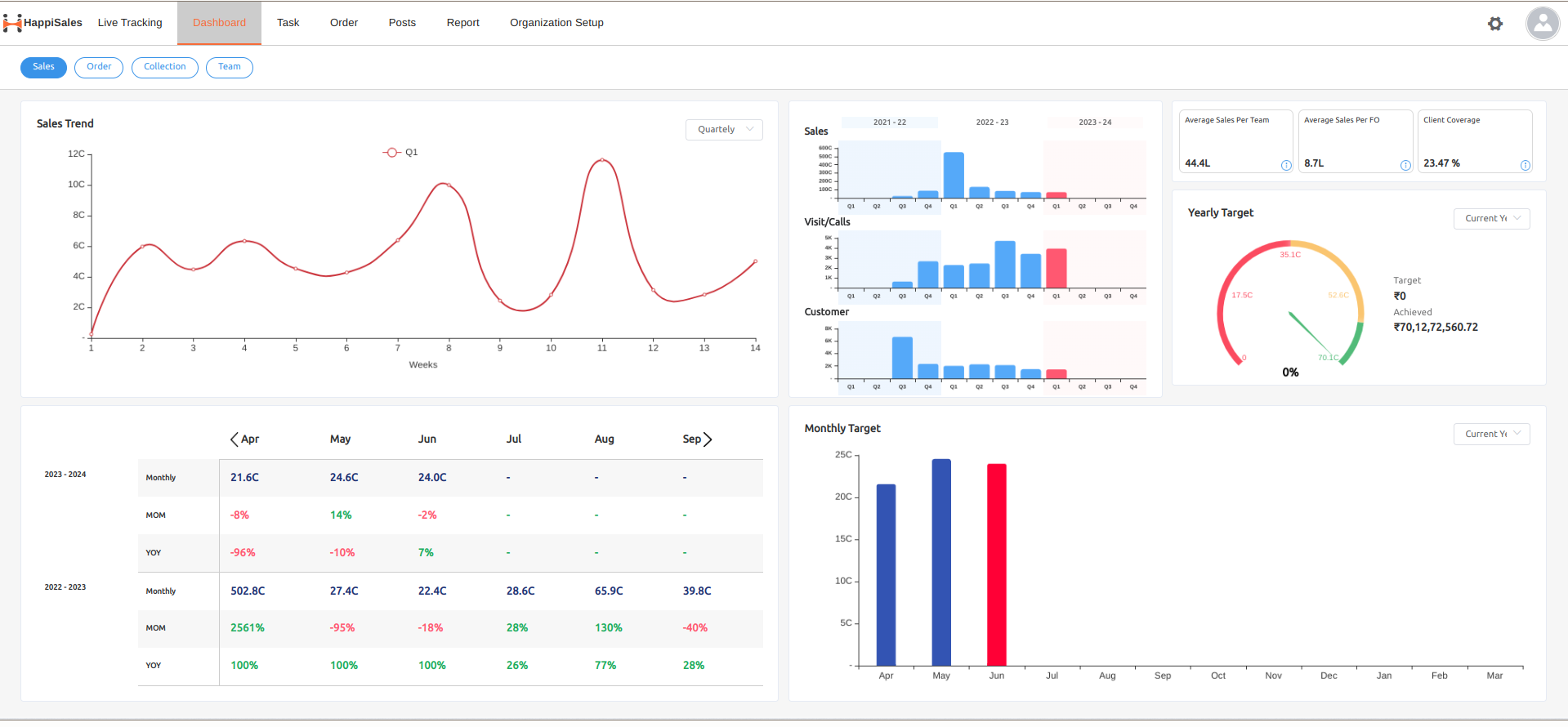 Comprehensive Visibility into the Performance
Experience comprehensive visibility into the performance of your Sales Avengers with our advanced tracking system. Stay informed about their remarkable achievements across various metrics, including sales, collections, orders, new clients acquired, average calls per sales representative, and average revenue per sales representative.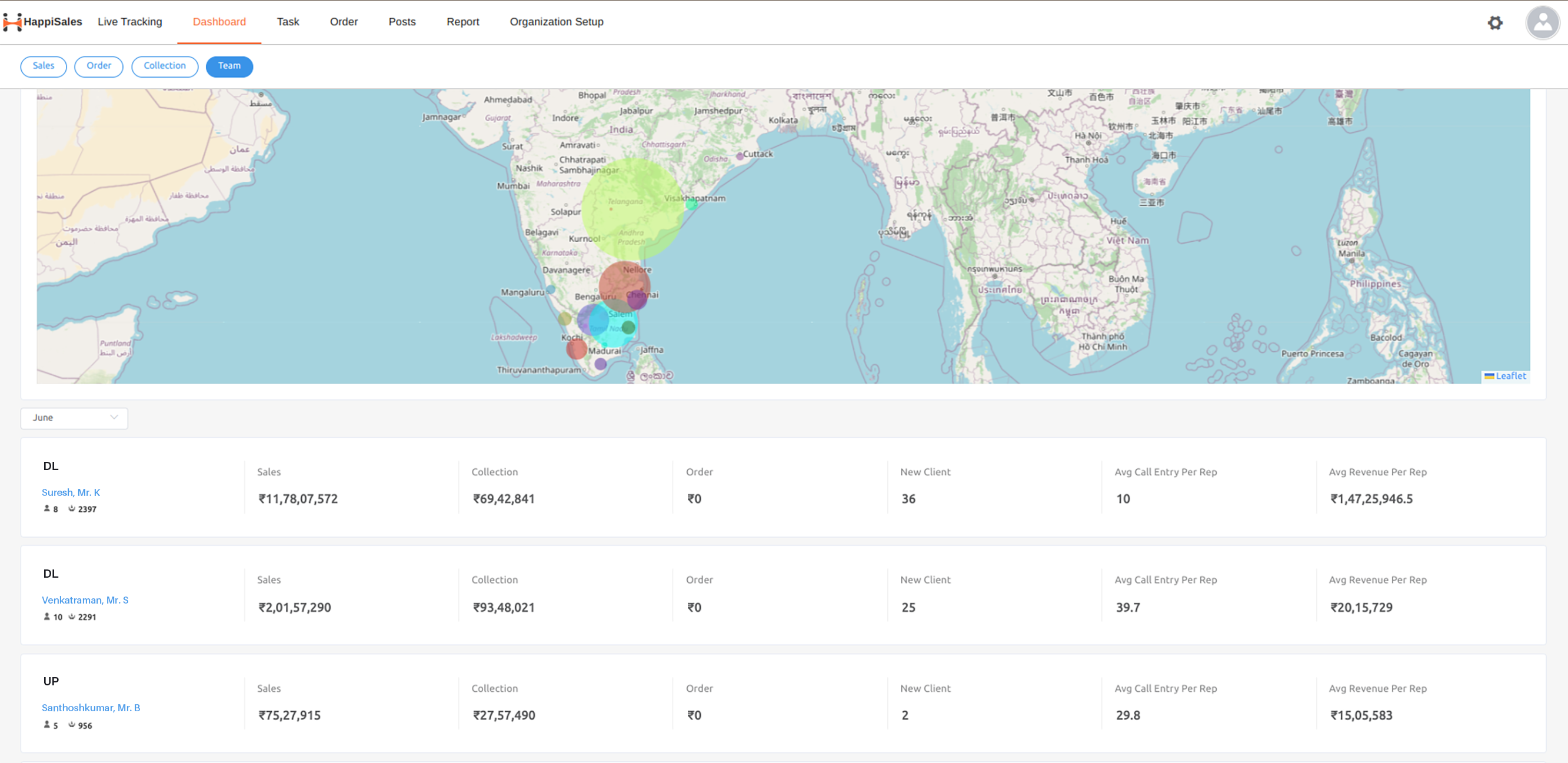 Streamline Task Creation with Ease
The Happisales app revolutionizes task creation, streamlining the process for maximum efficiency. With our user-friendly interface and intuitive features, you can effortlessly create tasks, assign them to team members, and set deadlines with just a few taps on your mobile or web device. Stay organized and ensure nothing falls through the cracks as you manage and prioritize tasks seamlessly.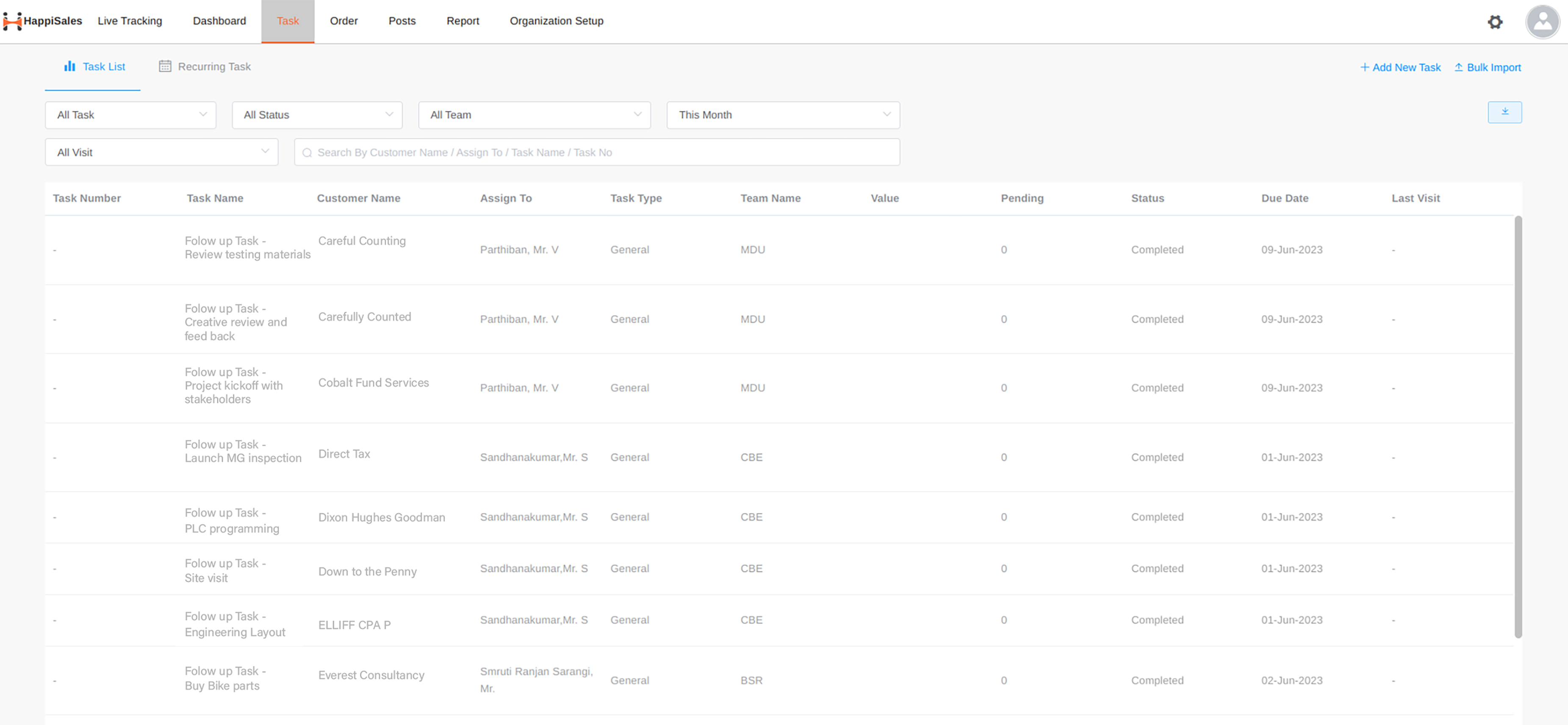 Cutting-Edge Reporting Features
Experience a new level of reporting efficiency with Happisales, equipped with cutting-edge features that empower your team to access and analyze vital information. Seamlessly check reports, track attendance, and review essential data for each day, including end-of-day summaries, mini-day insights, call entries, sales figures, collections, product details, task progress, client information, and employee performance. Stay ahead of the curve with Happisales, revolutionizing the way you analyze and leverage crucial information for enhanced productivity and results.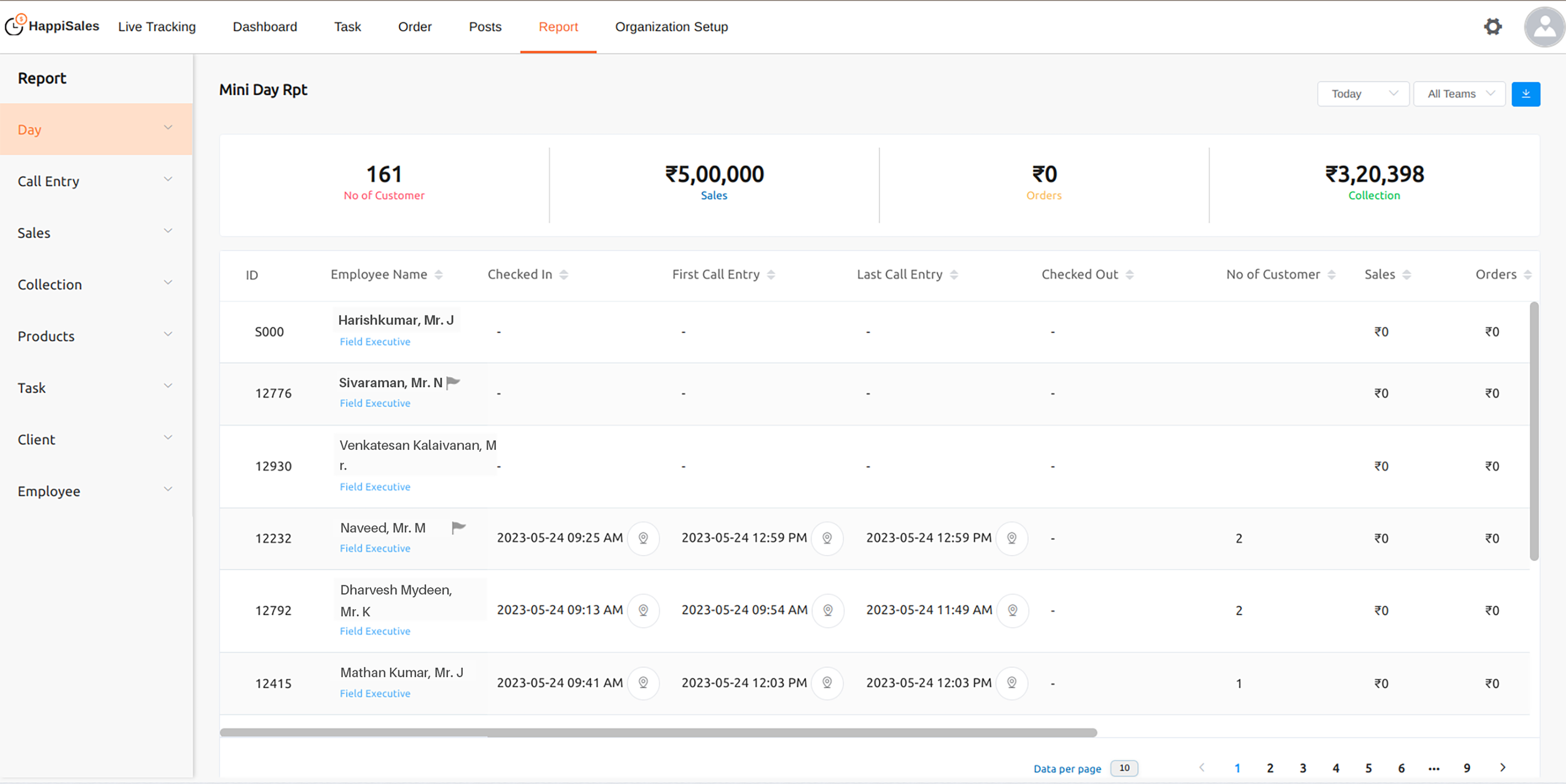 Interested? Try it free for 30 days!
Happisales is an end to end field sales automation software.