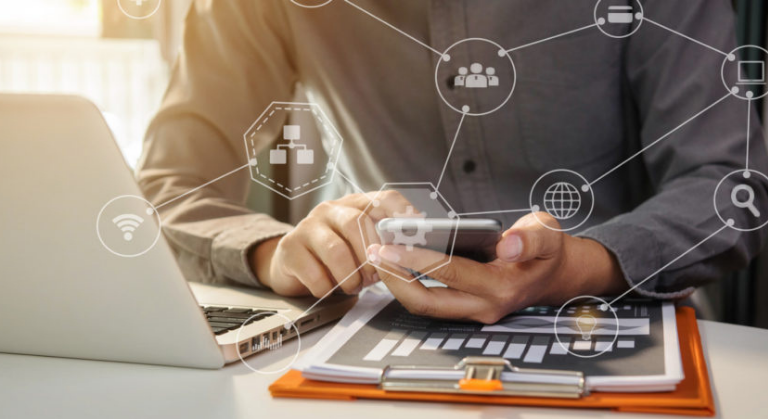 Every sales head in any company dreams of skyrocketing sales just like how it happens in renowned movies like The Wolf of Wall Street or Rocket Singh, Salesman of the Year. But, what matters the most is how productive your sales reps are for you to achieve your sales target as a team. Do you measure your sales reps' work with tracking software? Then, this would interest you even more.
The effectiveness of sales reps is measured by the number of successful face-to-face meetings they had with the prospects which is followed by signups or follow up meetings. It looks like a lot of time is involved here.
Having said that, how do sales reps spend their time? Has automation been any good for the sales force so that productivity is boosted?
YES!
How do Salesmen spend their time?
Have you ever passed by the inbound sales team bay where there is a lot of pandemonium throughout the day? Believe it or not, a lot of conversions can begin or end here. As surveyed by Sales Insights Lab, 42% of the sales people say that the phone is the most prudent sales tool. But how does this impact sales?
The quality of the data received is the pivotal factor that determines sales productivity in any organization. Void fields and redundant entries block the sales reps way further.
Followed by the first one, the sales reps are left with spending a lot of time to research about the prospects as there is insufficient data for them to proceed.
With accurate data, the task to-do by each salesman can be easily automated into a workflow. A lot of companies today do it through Field Service management Software.
Believing that sales is the revenue avenue, a handful of globally renowned companies have been capitalizing on sales and marketing every year. Here's a sneak peek to it.
On the other hand, intuitive CRMs and automation have eased Salesmen's jobs that eventually contribute to revenue. Are you thinking of a sales force automation anytime sooner?Then this is all you should be knowing.
7 Ways to Improve Sales Productivity
1. Power of Sales Tools
A bunch of sales tools have proved effective and efficient, enabling sales reps to perform without wasting their time. A mobile CRM is one good example of a powerful sales tool which can also be a Field Service Software. How does this route help?
Territory specific customer management – You get to organize your customers based on their territories and keep a track of customer interactions in a timeline.
Sales activity management – You can manage the activities of your sales reps like customer visits, calls and orders. This can help them achieve their monthly targets.
Order management – You can collect orders on the go, manage customer orders, provide discounts and a lot more.
Collect payments -. Enables your sales reps to collect payments from customers with subtle reminders.
Customer complaint management – Your customers are your advocates. Resolve complaints with a seamless workflow before it impacts your business.
Impressive isn't it? We provide all of these features and even more that can lead to a productivity spike in your sales team". Check out Happisales, a Sales Tracking Software that could level up your business. It is a cutting-edge mobile tool developed exclusively for sales that gives you an edge over other applications.
Preparing your sales team to get upgraded to such a mobile sales tool would be your first step towards being productive as a Sales Team.
2. Capitalizing on Training of Sales Representatives / Sales Team
When you are prepared to upscale your sales team with Field Force Automation Tool, you are also set to invest in training them to use the product. Apart from technical training, as an organization you are also bound to train them on how to face customers and answer their queries. 
Experts also recommend another strategy called individual sales training or one-on-one sales training that has actually worked wonders with productivity improvement .
3. Task Automation & Time Management
Automation is a time-saver in disguise. Speaking of it, there goes a list of tasks that can be automated when you are in sales. It is made possible using a tech savvy sales employee tracking app. Some of the time-consuming tasks that can be automated are:
Customer Data Entry
Daily tasks for sales reps
Follow up emails
Reminders to customers for payments
For instance: With a field sales executive in the finance industry – (Non-banking sector per se) the maximum amount of time goes into collection of data, documents and payment dues. Automating this using a Field Force Help app saves his time therefore enabling him to be more productive. 
4. Lead Scoring
The sales teams have always been ambitious to close the leads faster. Through Lead Scoring, you can easily evaluate potential leads. This can further avoid time consumption by your field sales executives with non-buyers.
Sales teams use traits, characteristics, demographics and historical data to evaluate and score leads. Most companies have this feature in their field assist application. It has helped sales teams make judicious decisions with prospects, understand their buyer persona and convert them based on the data provided.
5. Incentivizing Reps
Employees in the sales team tend to earn more than the ones in the other teams. Sounds like a corporate myth? Ideally, sales employees get the perks of being incentivized. Rewards and recognitions help gain momentum and motivate them to perform better.
Gamification is a technique leveraged by big-league companies to empower sales employees and make them productive.
Try it and see your sales team perform better.
6. Referral
Your existing customers are your brand ambassadors. Get vouched to have your brand name spread among their peers through traditional word of mouth. Leads that come through word of mouth would be more open to knowing what you offer. The possibilities of converting leads from referrals are higher compared to the ones that come from other channels.
With this, you can also put a smile on your existing customers' faces by providing them with referral coupons and offers. This is another tried-and-tested method of improving sales productivity.
7. Alignment of Sales and Marketing
Sales and Marketing teams in every company have always been rivals for the methods and approaches that are believed and practiced by each team.
Here are some tips to get the teams aligned and see them perform better.
To quote an example, the MQL or (Marketing Qualified Lead) is one that is considered by the marketing team through behavior and analytics who is likely to become a customer. This lead is sent to the sales team for them to pay more attention to the process of conversion.
The Sales Qualified Lead (SQL) is a qualified lead and a potential buyer / customer displaying interest towards the product or service.
Mostly, the difference of opinion between marketing and sales teams tends to arise when the sales team considers some of the MQL as low quality leads. In order to avoid the drift between the two and produce quality leads, you should have regular touch points with the teams.
If you are already trying these methods at your organization and looking for a technology change, then try Happisales, a software to aid you with tracking field service as a sale begins there.
Happi-Selling!